Farmer George's Busy Morning Testimonials
Hello all we have decided to create a page to show people who have not yet bought "Farmer George's Busy Morning" what those of you who have, are saying about it.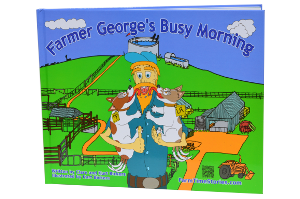 We have included testimonials and links to 3rd Party websites who have reviewed the book.

Please take the time to read and if you already have a copy and would like to add to this list please email us at admin@farmtimestories.com with your review. We would love to receive any photo's or video of you and your children reading "Farmer George's Busy Morning" or colouring in the pictures.

If you have the time we would also appreciate people to add their reviews to our Amazon.com page. If you would really like to help please feel free to promote us via social media…like and share, favourite, re-tweet etc is the power to help us change the world one book and tree at a time. The greatest complaint from parents so far is that their children can't put "Farmer George's Busy Morning" down!

Here are some special words from 2-3 year old foremost book critic…Luca!

---
Testimonials for Farmer George's Busy Morning
---
Jackie Donnelly
"My name is Jackie Donnelly and I was fortunate enough to win one of you Farmer George books via the ABC wireless in Geraldton.
What a great book so colourful and the story line is fantastic .This would be a great book for city children ,as they may get a good understanding of farm life and animal/environmental welfare.
I wish you every success with the book and I look forward to reading it to my nieces and nephews.
Best of luck."
Jackie Donnelly
Practice Nurse
Victoria District Medical Centre
---
Bianca O'Malley
" My girls love your book! So many quirky little questions come up each and every time we read it. I'm no 'country farm girl' so cheers for the questions and answers at the back! I just want to say the one thing they love the best is the actual photos at the back of real farmer George matching Kurt's fabulous illustrations.
Anyway, just thought I'd say I love the book and the concept behind it! You may have to think about writing a next book as my girls are curious as to what Farmer George does after morning jobs, morning tea and biscuits???
Fingers crossed the kindy kids this year take me in the direction of 'farms' because I'd really love to use your book to explore the farming theme. It would provide loads of opportunities and includes the ever important sustainability issue which I'd love to incorporate."
Bianca O'Malley
Teacher
St Lawrence's Primary School
Geraldton, Western Australia
---
Serena & Darren
"Dear Kurt and Clare
Firstly, congratulations on your first published treasure !
It is more than a book, it is a dream, a vision, a historical snapshot of personal experience as well as an educational tool that every child needs to embrace.
Secondly, for anyone that has not been raised on a farm, this book is a must have, providing an insight into what it takes to be a farmer, a very busy life indeed.
My husband and I have two young school age children who loved the illustrations, bright, colourful and detailed. They loved talking about what the doggies were doing on each page, playing 'who can spot the dog first' as the page was turned. My daughter liked the page with the Mum on it, sharing a cup of tea and cake, reminiscent of our family! They recognised many things that they could relate to in everyday life, the green plastic chair, vegemite toast, sprinkler and cake. Yet there were many things they could not relate to such as alpacas, crops and big water tanks; all the things that are needed to be a farmer. The story flowed well, keeping little ones interested in 'what happens next'; and as the parent, sharing the learning and understanding with them as each page was read, is always rewarding.
It would be lovely to see more of Farmer George as he goes about his Busy Afternoon, Busy Evening and other aspects of farming to give children a real insight into what it takes to live on a farm. Farmers are salt of the earth people; where people depend on farmers, farmers depend on the weather, the weather depends on nature, nature depends on people; all interlocked. The bold vision that FarmTimestories.com is promoting is fundamental to survival, a fantastic concept of giving back to nature by planting trees, an important message for all generations to come and we wish them every success with Farmer George's Busy Morning."
Regards
Serena & Darren
Geraldton, Western Australia
---
Jo
"What a refreshing children's book to read to my kids about a farmers morning in a part of Australia. I have had to read it twice a day for the past 3 weeks since it arrived in the post and I think I pretty much know it off by heart. So obviously it is a hit and I think it would make an awesome present for any city friends and friends that live overseas to get an insight in to country life. Really enjoyed the question and answer section in the back. Well done to the Authors."
Jo
Busselton, Western Australia
---
Below are images of the website reviews, click on the image to go to the website review.
---