Farmer George's Busy Morning
Farmer George's Busy Morning and FarmTimeStories.com began two years ago as a crazy idea while Clare and I watched over our son, after he had his tonsils out.
The illustrations and words for "Farmer George's Busy Morning" and getting photo's together to make the website have taken us two years to complete.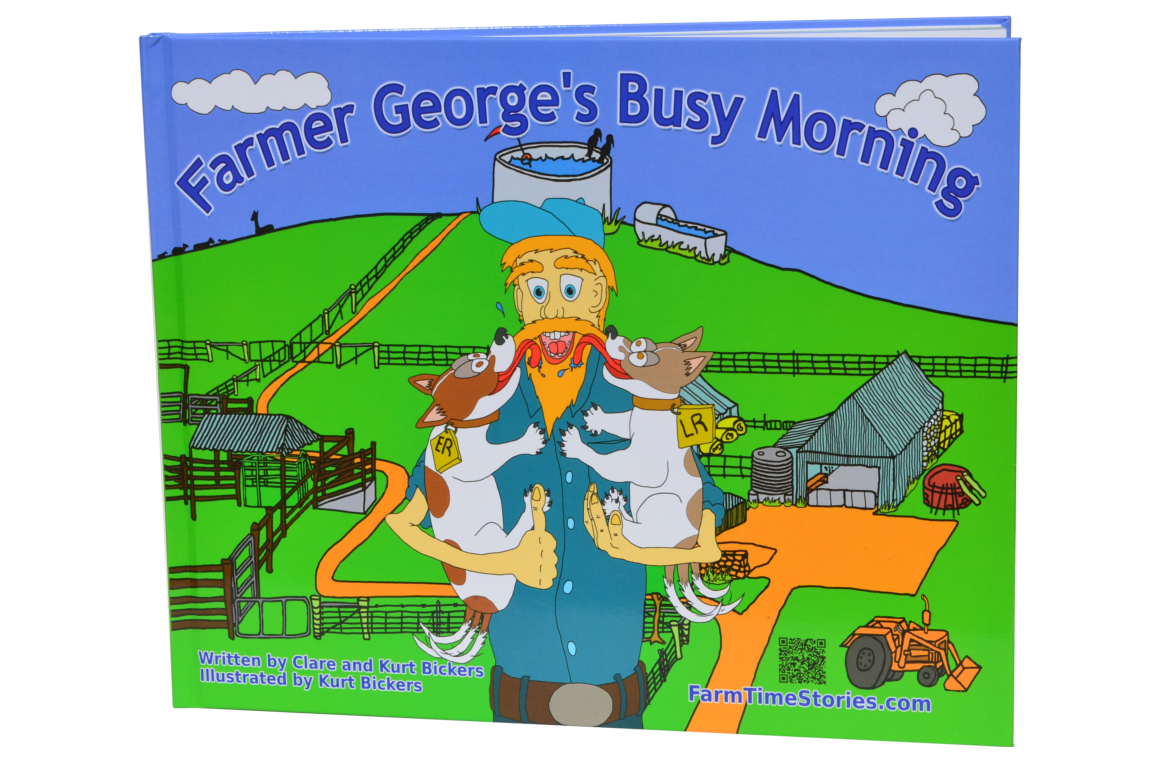 Farmer George's Busy Morning is our family's perspective of farming in the Irwin Valley, Western Australia. We have been there for the past 20 years and learnt the hard way from the ground up.The book is the first few hours of every morning on the family farm. It revolves around the care of our animals.
You will see Farmer George and his dogs, Evie and Lilly, start their morning with excitement and energy. Which the Jack Russells ensure happens every day.In this book you will see the milking of goats, the collection of eggs, the feeding of orphan animals. You learn about the unique and interesting interaction of Alpacas with sheep to protect lambs from foxes and learn about the ability of cows to jump fences. (Something 20 years ago I couldn't believe 400 kgs could jump 1.2m)
We show children the responsibilities of looking after your animals, from feeding them, to watering them and checking on their well being. While Dad's best little mates, Evie and Lilly, go about their day, oblivious and happy to what is going on. They always seem to be more interested in chasing after each other or anything else that will run on the farm.
My dad is the reluctant star of this book, in a small way he represents all us farmers across the world. Trying to do their best and the right thing by their animals with the limited resources they have.
The book also includes a question and answer section at the back to help stimulate some conversations with your children about the book and the world around us.
There are also some black and white pictures which you can copy and get the children to colour in and a photo collage to show people the real world where all the information is coming from.
If you would like to buy a copy of our book please click on the link. You can buy direct from us presently if you are in Australia. If you are from overseas please see click on the link to Amazon.com.
We also have digital version available in Epub and Mobi. These can be purchased direct from this website, but will take a little extra effort to transfer to your phone or reader from a computer, or down the normal route of either Amazon or ITunes using the links form this website
Please explore our farm by looking at the picture sliders and videos on this website.
Best Regards
Kurt and Clare Bickers